Skip to Content
Home Medical Equipment in Portland, OR
Medical Equipment Solutions for Home Care
Agape Hospice NW is a leading hospice care provider in the pacific northwest with comprehensive home medical equipment solutions in Portland, OR. Every hospice patient deserves the best possible care, whether in a hospital or medical center or in the comfort of their home. A crucial part of ensuring your comfort and well-being is proper medical equipment for your treatment, and daily life tasks like bathing. If you're undergoing hospice care or need high-quality equipment for your home life, we can help you acquire what you need to preserve your quality of life with a little professional help. Our company cares about your welfare and happiness. Providing home medical supplies and equipment for your at-home medical needs is one of many ways we contribute to your care.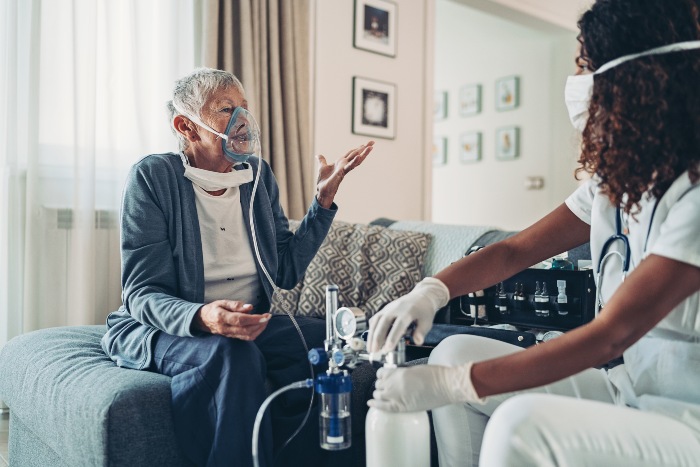 Bringing Compassionate Hospice Care to Your Home
Agape Hospice NW helps you get the care and supplies you need at home with a wide selection of products and services, including medical equipment for home use. We offer a broad range of home medical equipment to help you improve your quality of life when you have special needs. Our basic equipment categories include the following:
Hospital beds, bedside commodes, and other hospital equipment
Ambulatory equipment like walkers, crutches, and canes
Bathroom equipment, including elevated toilet seats, bath benches, and shower benches
Mattresses, pressure pads, and other support surfaces for clients at risk of developing decubitus ulcers or pressure sores
Leave the Hospital With Confidence
As a caring hospice professional prioritizing patient welfare, Agape Hospice NW always puts our clients and their families' needs first. We understand how valuable returning home is to most patients because doing so is the best way to feel the most comfortable. Fortunately, our company has all the necessary resources to help you make that happen. You can get everything you need from us to make your hospital-to-home transition go as smoothly as possible, giving you confidence knowing your home is prepared for your needs with quality home medical supplies from reputable sources. We always carefully inspect, prep, and test all hospice equipment and verify it adheres to all manufacturers' guidelines for safety, comfort, and reliable use. We can also pair your supplies with our care services if you need a helping hand during your treatment.
No Waiting for Home Medical Equipment in Portland, OR
Patients should never need to wait when transitioning from hospital care to their homes. Agape Hospice makes this transition easier and eliminates waiting time by maintaining our own home medical equipment (HME), including delivery services and HME staff. If you live in a place where we don't provide our own equipment, our team works with local medical suppliers meeting our impressively high standards. We respond quickly and work efficiently to supply our medical equipment when your care plan specifies home medical equipment. You can rely on us for all the equipment your care plan may require, such as the following:
Hospital beds
Pressure relief mattresses
Trapeze bars and patient lifts
Suction equipment
Wheelchairs and other specialty chairs
High-flow oxygen therapy
Oxygen and delivery services
CPAPs and BiPAPs
Feeding pumps
Tub seats, bedside commodes, walkers, and canes
Meet Your Home Medical Equipment Technician
At Agape Hospice NW, we combine all medical equipment we deliver to a patient's home with a skilled medical service technician's professional services. We consider your technician part of the hospice team serving your medical needs, and they're ready to answer all your questions, adjust your equipment, and return to your home if you need service visits. Our technicians are well-versed in your and your family's needs while settling into a routine at home. The service technician puts your equipment on our truck, delivers it to your property, and carefully assembles or sets it up to your wishes. After ensuring everything's in place and functions properly, they provide detailed instructions about how all your equipment works. The technician doesn't leave until the patient or their family caregiver feels confident and comfortable using the equipment.
Contact Agape Hospice NW Today for Medical Care
Home hospice care can be easier, more reliable, and more comfortable with Agape Hospice NW's home medical equipment and services. We'll gladly discuss all your equipment needs and create a care plan integrating the supplies and professional support you need for daily life and essential medical care. Contact us today to start the process and find exceptional home medical supplies and equipment.
Experience Top-Tier Hospice Care