Skip to Content
Hospice Care for a Heart Disease Patient in Portland, OR
Hospice for Heart Disease and End-Stage CHF
Agape Hospice NW, in Portland, OR provides compassionate hospice care for patients with heart disease and end-stage coronary heart failure (CHF). With a wealth of experience, trusted caregivers understand the unique challenges faced by patients and families navigating end-stage coronary heart failure. As such, we are dedicated to the highest levels of support and care.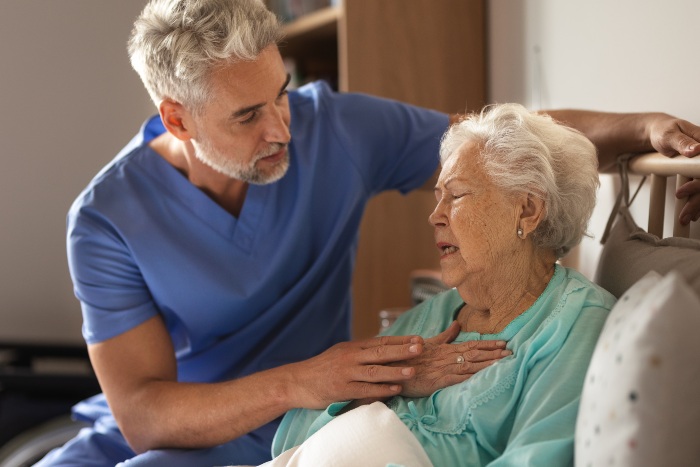 Evolving Care for Heart Disease Patients
Heart disease is a complex and difficult journey for patients and families alike. With advanced-stage prognoses, care demands begin to evolve, making it challenging for families to accommodate their loved one's needs. That's where compassionate and personalized nursing care plans for heart disease patients in Portland, OR become essential.
Trusted Guidance for Heart Disease Patients
Determining the right time to consider hospice care for a loved one with coronary heart failure can be daunting. Advanced-stage heart disease is unpredictable, with various symptoms that may look different from one patient to the next. That's why Agape Hospice NW is here to guide you.
Signs That It is Time to Consider Hospice Care for End-Stage Heart Disease 
Hospice care becomes an invaluable tool to help these individuals receive the emotional, physical, and spiritual care they need at the end of life.
Signs that it's time to consider hospice care include:
The disease has reached advanced stages with reoccurring stages of angina
Treatments are no longer effective
The patient has chosen to pursue treatment no longer
Worsening symptoms including shortness of breath, fatigue, and functional decline
Hospice Care for Patients With Heart Failure
For patients in advanced-stage heart failure, hospice care can provide compassionate, coordinated support. Hospice care for heart failure includes:
Pain and symptom monitoring and management
Emotional and spiritual support
Coordinated care
Medication, oxygen, and medical equipment
At-home care visits and ongoing support
Hospice Care for the Family of a Patient With Heart Failure
Hospice care is aimed at not only helping patients but their families as well. Benefits of hospice care for families include:
Caregiver training and education
Assistance with challenging decisions
Respite care
Responsive assistance
Emotional and spiritual support
Bereavement counseling
Benefits of Hospice Care
Choosing a hospice coronary heart disease plan for you or a loved one can be highly advantageous when navigating this unpredictable disease. Benefits include:
Increased comfort and peace of mind
Personalized attention and individualized care plans
Decreased risk of rehospitalization
Increased safety and security
Requesting a Hospice Evaluation
If you or a loved one believes it may be time for hospice care, Agape Hospice NW is here to help. Call to schedule a hospice evaluation to begin your hospice journey. Our trusted professionals will assess the patient's needs and help you create a personalized care plan that best suits your and your family's goals.
Let's Discuss Your Hospice Care Plan
With an in-depth understanding of end-stage heart disease's challenges, Agape Hospice NW, in Portland, OR is here for you. Look to our professional caregivers for personalized care that brings comfort and peace of mind to your family. Contact our team today to get started with a hospice care consultation.
Experience Top-Tier Hospice Care