Skip to Content
Symptoms of Alzheimer's Disease and Dementia in Portland, OR
Support for All Stages of Dementia and Alzheimer's Disease
Alzheimer's disease and dementia can profoundly alter how your loved one leads their life. As their disease or condition progresses, their care demands evolve. To mitigate the risk of burnout for caregivers without compromising on compassionate dementia care, Agape Hospice NW in Portland, OR is here for you.
Hospice Care for Alzheimer's and Dementia
Alzheimer's disease and dementia significantly impact not only the individual but their families. These conditions can be emotionally and physically straining as their loved one's personality and needs begin to change. It may be time to discuss hospice care to ensure your loved one receives the specialized care and dignity they deserve towards the end of their life.
Making the Challenging Choice
Deciding it's time to pursue hospice care for a loved one with Alzheimer's or dementia can be difficult. Choosing hospice care for your loved one may feel like a betrayal or bring immense guilt. However, hospice care is an invaluable solution that ensures unwavering support and safety as the disease progresses. This decision depends on your loved one's condition and the symptoms of Alzheimer's disease and dementia they are experiencing. Hospice care is not about hastening the end but rather focusing on improving your loved one's quality of life.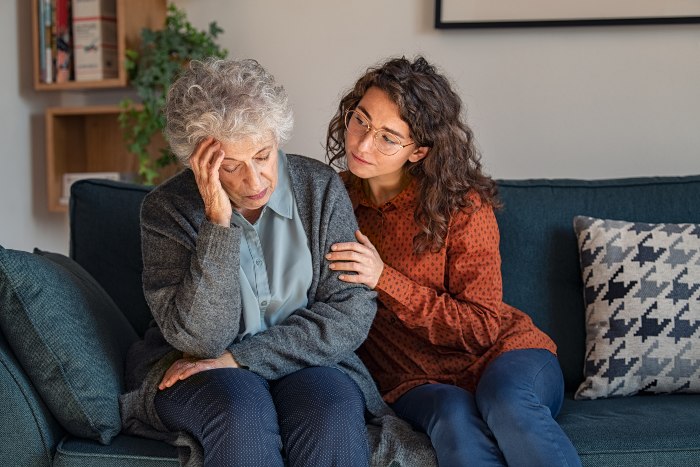 Symptoms of Alzheimer's and Dementia in Relation to Hospice Care
Late stages of Alzheimer's disease and dementia require specialized care. As such, the common signs that it's time for hospice care include:
Your loved one can only say a few words
Your loved one is bed-bound
Your loved one is fully dependent on others
Your loved one is struggling emotionally
Hospice Evaluations
When you feel your loved one has reached the point of hospice care, schedule a hospice evaluation. A hospice evaluation is performed by a team of Alzheimer's disease and dementia care professionals. It's aimed to assess your loved one's physical and emotional needs to determine if hospice care is right for them.
Patient Benefits of Hospice Care
Hospice care can benefit many patients in the late stages of Alzheimer's disease and dementia. Hospice care encompasses comprehensive support strategies that improve one's quality of life, including:
Symptom management to promote greater comfort
Personality care plans
In-home or facility care
Emotional support, socialization, and companionship
Spiritual support
Family Benefits of Hospice Care
Hospice care is highly beneficial for the loved ones of a patient with Alzheimer's disease or dementia. Some of the benefits include:
Caregiver training and education
Support and assistance with challenging care decisions
Unwavering support
Emotional and spiritual aid and support
Respite care
Bereavement counseling
The Advantages of Hospice Care
Hospice care for patients with Alzheimer's disease and dementia provides compassionate resources, including:
Enhanced quality of life for the patient and family
Holistic support and guidance
Caregiver relief
Decreased risk of accident or injury
Increased safety and security
Approaching the Hospice Decision with Family
When discussing the possibility of hospice care with family members, it is important to remember that the discussion may be emotionally charged and difficult. To ease into the conversation, we recommend the following:
Educate yourself on what hospice care truly is to deter misinformation
Determine the extent of what your loved ones know about the disease
Express your feelings and goals
Let's Discuss Hospice Care
If you or a loved one is navigating Alzheimer's disease and dementia, Agape Hospice NW in Portland, OR, is here to provide you with the compassionate support you need. If the time has come to explore hospice care, look no further than our trusted team. Contact us today to schedule a consultation.
Experience Top-Tier Hospice Care