Skip to Content
Hospice Care for Veterans in Portland, OR
Home Care for Veterans
Agape Hospice NW is proud to offer specialized veteran care services in Portland, OR, dedicated to serving those who have bravely served our nation. Contact us today to learn more about our veteran care services and how we can assist you and your family.
Importance of Caring for Veterans
Hospice care plays a crucial role in providing specialized and compassionate end-of-life care to veterans. Hospice care for veterans offers the following benefits to your loved one:
Honoring Service – Veteran hospice care is a way to show gratitude and respect for the brave individuals who served in the armed forces, acknowledging their dedication to safeguarding the nation. It acknowledges their service and provides them with dignified and respectful care.
Specialized Care – Veterans often have unique healthcare needs due to their military service, which can include physical injuries, mental health challenges, and exposure to various environmental hazards. Hospice teams trained in veteran-specific care can address these needs effectively.
Emotional Support – Veterans may carry emotional and psychological burdens related to their service experiences. Hospice care teams are trained to offer emotional support and create a safe space for veterans to share their feelings and stories, helping them find closure and peace.
Pain and Symptom Management – Hospice care focuses on pain and symptom management, ensuring that physical discomfort is minimized as much as possible during the end-of-life journey.
Family Support – Hospice care supports veterans and their families. It helps families understand the unique needs and challenges faced by veterans and provides guidance on how to provide the best possible care and support.
Legacy and Remembrance – Hospice care can help veterans reflect on and preserve their legacy. This might involve recording their life stories, experiences, and wisdom, leaving behind a legacy for their families and future generations.
Spiritual and Cultural Sensitivity – Many veterans have strong connections to their spiritual beliefs and cultural backgrounds. Hospice care teams are trained to provide care that respects and aligns with these beliefs, ensuring a holistic approach to the end-of-life experience.
Comfort and Dignity – Hospice care focuses on maintaining a high quality of life for veterans in their final days. It allows them to be surrounded by loved ones, receive personalized care, and offers an environment that promotes comfort and dignity.
Community and Companionship – Hospice care fosters a sense of community and companionship, providing veterans with opportunities to connect with fellow veterans, volunteers, and care professionals who understand their unique experiences.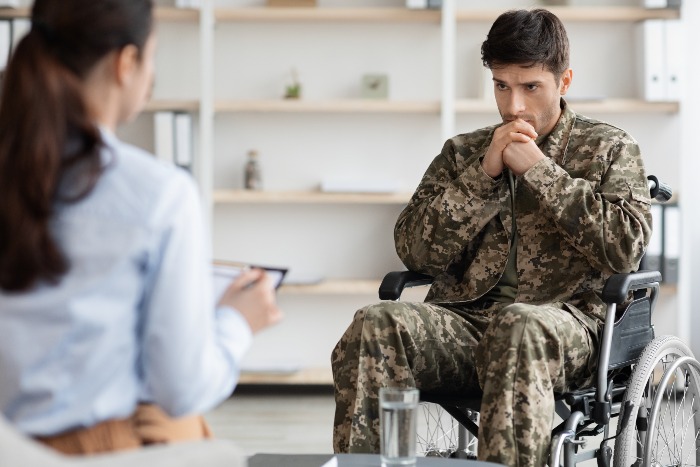 Veterans With Disabilities
Hospice care tailored for veterans with disabilities offers specialized support that acknowledges and addresses their unique needs. This care encompasses physical comfort and psychological well-being, and it considers the challenges associated with disabilities. Hospice teams trained in disability care provide pain management, adaptive equipment, and emotional support, ensuring dignity and quality of life. By understanding the distinct circumstances of disabled veterans, hospice care creates an environment that fosters comfort, respect, and holistic care during the end-of-life journey.
Support for Veterans' Families
Hospice care provides essential support to veterans' families by offering emotional guidance, respite care, and practical assistance during a challenging time. Through counseling and resources, families receive help in navigating the emotional complexities of end-of-life care and coping with grief. Hospice teams also provide respite care, allowing family members to rest and recharge while ensuring their loved one receives continuous professional attention. Moreover, hospice care educates families about the care process, enabling them to provide the best possible comfort and companionship to their veteran family member, fostering an environment of understanding, comfort, and unity during this sensitive time.
Contact Agape Hospice NW for Veteran Care
Honor our veterans by providing them with the compassionate care they deserve. Contact Agape Hospice NW today to learn more about our specialized veteran care services and how we can support those who served with the dignity and respect they earned. Together, let's ensure our veterans receive the comprehensive care they need during this important phase of life.
Experience Top-Tier Hospice Care